We are proud that Citizens Advice Woking (CAW) provides local people with free, confidential, and independent advice to anyone who needs it, whatever their problem; five days a week – in person, by telephone and by email.
CAW is a local charity, not funded by central government. Around half our current income is from Woking Borough Council, which is under threat, and we must raise the other half every year to continue to deliver a service that is increasingly needed.
Our services cover a wide range of advice and support, including:
Benefits
Work
Debt and money
Consumer
Family
Housing
Discrimination
Health
Education
Immigration
Law and Courts
We'd love to talk to you about how you might be able to support us, for instance:
CAW as your 'charity of the year'?
Your company fundraising events?
'Sponsoring' our annual IT or printing or training costs?
Our value to this Community – 2022/23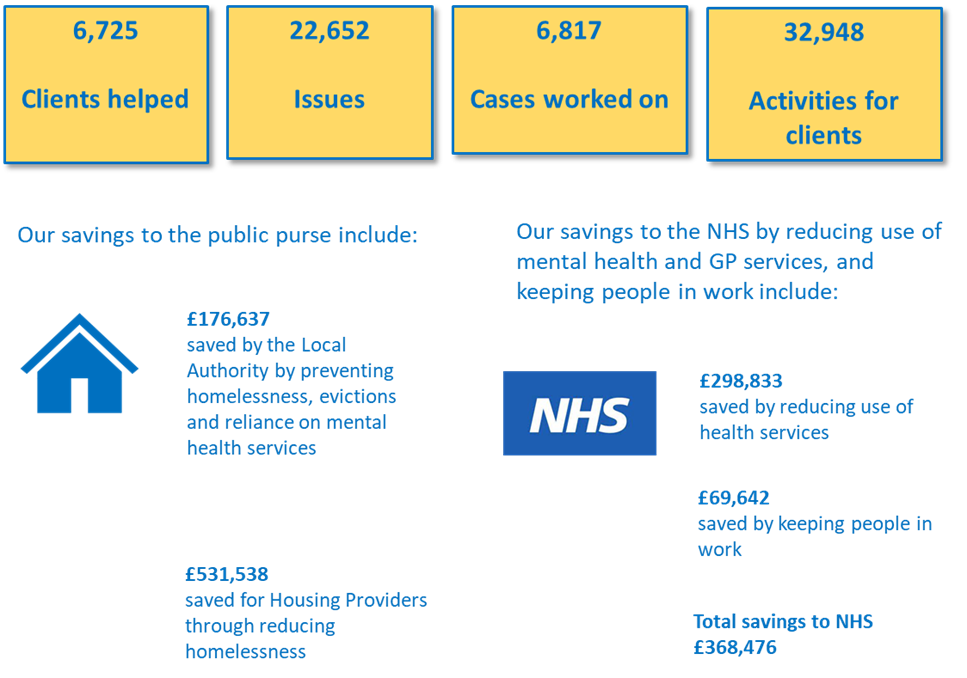 CAW's value to Society is demonstrable, for every £1 invested in our service in 2022 – 23, we generated £41.09 in wider economic and social benefits (public value). And our clients tell us how much they value our support, as one client recently wrote to one of our team:
'Thank you for helping me with this, you are my shiny star going way beyond your job, your kindness has a huge impact on my life, it means so much to me and I can't thank you enough'.
Please contact our Chief Executive – lorraine.buchanan@wokingcab.org – or our Chair of Trustees – laurenceoates1@outlook.com – for an initial conversation If you'd like to know more about Citizens Advice Woking.